Small children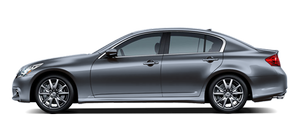 Children that are over 1 year old and weigh at least 20 lbs (9 kg) should remain in a rear-facing child restraint as long as possible up to the height or weight limit of the child restraint. Forward-facing child restraints are available for children who outgrow rear facing child restraints and are at least 1 year old. Refer to the manufacturer's instructions for minimum and maxi m u m w e i g h t a n d h e i g h t recommendations. INFINITI recommends that small children be placed in child restraints that comply with Federal Motor Vehicle Safety Standards or Canadian Motor Vehicle Safety Standards. You should choose a child restraint that fits your vehicle and always follow the manufacturer's instructions for installation and use.
See also:
Rear display settings
To adjust the rear display settings, select the preferred key and press the ENTER button. The following settings are available: Aspect: Select the display size from "CINEMA", "WIDE", "FULL" or "NOR ...
Safety, Reliability & Features
With the top score, Good, in front, side and rear-impact crash tests, the 2009 EX was rated a Top Safety Pick by the Insurance Institute for Highway Safety. That's not necessarily a competitive ad ...
Towing recommended by INFINITI
Two-Wheel Drive (2WD) models INFINITI recommends that your vehicle be towed with the driving (rear) wheels off the ground or place the vehicle on a flat bed truck as illustrated. CAUTION ...