Small children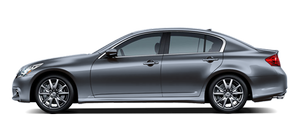 Children that are over 1 year old and weigh at least 20 lbs (9 kg) should remain in a rear-facing child restraint as long as possible up to the height or weight limit of the child restraint. Forward-facing child restraints are available for children who outgrow rear facing child restraints and are at least 1 year old. Refer to the manufacturer's instructions for minimum and maxi m u m w e i g h t a n d h e i g h t recommendations. INFINITI recommends that small children be placed in child restraints that comply with Federal Motor Vehicle Safety Standards or Canadian Motor Vehicle Safety Standards. You should choose a child restraint that fits your vehicle and always follow the manufacturer's instructions for installation and use.
See also:
It's the little things that count
Storage Compartments (Puny, Fair, Ample, Galore): Puny Cargo/Trunk Space (Puny, Fair, Ample, Galore): Ample ...
Emergency engine shut off
To shut off the engine in an emergency situation while driving, perform the following procedure: – Rapidly push the push-button ignition switch 3 consecutive times in less than 1.5 seconds, or – ...
HomeLink universal transceiver (Type B) (if so equipped)
The Type B system can be identified by the IV 1 on the back of the mirror. Move the mirror to see if the IV is present. If the IV is on the mirror, use the procedure in this section to program the H ...