Engine coolant temperature gauge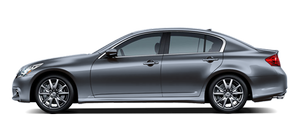 Engine coolant temperature gauge
The gauge indicates the engine coolant temperature.
The engine coolant temperature is within the normal range when the gauge needle points within the zone 1 shown in the illustration.
The engine coolant temperature varies with the outside air temperature and driving conditions.
CAUTION
If the gauge indicates engine coolant temperature near the hot (H) end of the normal range, reduce vehicle speed to decrease temperature. If gauge is over the normal range, stop the vehicle as soon as safely possible. If the engine is overheated, continued operation of the vehicle may seriously damage the engine. See "If your vehicle overheats" for immediate action required.
See also:
Checking engine coolant level
Check the coolant level in the reservoir when the engine is cold. If the coolant level is below MIN 2 , open the reservoir tank cap and add coolant up to the MAX1 level. If the reservoir tan ...
Making a call
To make a call, follow the procedures below. 1. Push the button on the steering wheel. A tone will sound. 2. Speak: "Call". The system acknowledges the command and announces the next set of avail ...
Manual operation
Fan speed control: Push the fan speed increase "" or decrease "" buttons to manually control the fan speed. Push the "AUTO" button to return to automatic control of the fan speed. Air recirculati ...