Engine coolant temperature gauge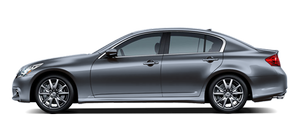 Engine coolant temperature gauge
The gauge indicates the engine coolant temperature.
The engine coolant temperature is within the normal range when the gauge needle points within the zone 1 shown in the illustration.
The engine coolant temperature varies with the outside air temperature and driving conditions.
CAUTION
If the gauge indicates engine coolant temperature near the hot (H) end of the normal range, reduce vehicle speed to decrease temperature. If gauge is over the normal range, stop the vehicle as soon as safely possible. If the engine is overheated, continued operation of the vehicle may seriously damage the engine. See "If your vehicle overheats" for immediate action required.
See also:
Parking/parking on hills
WARNING ► Do not stop or park the vehicle over flammable materials such as dry grass, waste paper or rags. They may ignite and cause a fire. ► Never leave the engine running w ...
Meters and gauges
1. Tachometer (P.2-8) 2. Warning/Indicator lights (P.2-11) 3. Speedometer (P.2-7) 4. Engine coolant temperature gauge (P.2-8) 5. Voltmeter (P.2-10) 6. Dot matrix liquid crystal display/ ...
Oil additives
INFINITI does not recommend the use of oil additives. The use of an oil additive is not necessary when the proper oil type is used and maintenance intervals are followed. Oil which may contain foreig ...