Door locks/unlocks precaution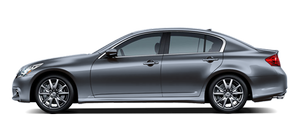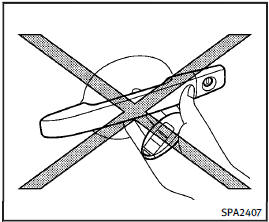 Door locks/unlocks precaution
• Do not push the door handle request switch with the Intelligent Key held in your hand as illustrated. The close distance to the door handle will cause the Intelligent Key system to have difficulty recognizing that the Intelligent Key is outside the vehicle.
• After locking with the door handle request switch, verify the doors are securely locked by testing them.
• To prevent the Intelligent Key from being left inside the vehicle or the trunk, make sure you carry the key with you and then lock the doors or the trunk.
• Do not pull the door handle before pushing the door handle request switch. The door will be unlocked but will not open. Release the door handle once and pull it again to open the door.
• The Intelligent Key system (opening/ closing doors with the door handle request switch) can be set to remain inactive. (See "Vehicle information and settings".)
See also:
Automatic operation
Cooling and/or dehumidified heating (AUTO): This mode may be used all year round. The system works automatically to control the inside temperature, air flow distribution and fan speed after the prefe ...
Troubleshooting guide
The system should respond correctly to all voice commands without difficulty. If problems are encountered, try the following solutions. Where the solutions are listed by number, try each solution ...
Freeing a frozen door lock
To prevent a door lock from freezing, apply deicer through the key hole. If the lock becomes frozen, heat the key before inserting it into the key hole or use the Intelligent Key system. ...