System operation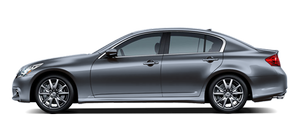 The automatic drive positioner system will not work or will stop operating under the following conditions: . When the vehicle speed is above 4 MPH (7 km/h).
• When the adjusting switch for the driver's seat and steering column is turned on while the automatic drive positioner is operating.
• When the memory switch 1 or 2 is not pushed for at least 1 second.
• When the seat, steering column and outside mirrors have already been moved to the memorized position.
• When no position is stored in the memory switch.
• When the parking brake is released (MT models).
• When the speed is above 4 MPH (7 km/h) while the parking brake is applied (MT models).
To restart the drive positioner system, move the parking brake to off and on.
• When the engine is started while moving the automatic drive positioner.
• When the AT selector lever is moved from the P (Park) position to any other position. (However, it will not be canceled if the switch is pushed while the seat and steering column are returning to the previous positions (entry/exit function).) . When the driver's door remains open for more than 45 seconds and the ignition switch is not in the ON position.
• When the seatback is folded (Coupe).
• While the walk-in function operates (Coupe).
• The seat synchronization function is automatically disabled if the outside mirrors or steering wheel reaches its maximum adjustment.
• The seat synchronization function will not operate if the seat is adjusted over one of the following maximum thresholds:
— Seat sliding: 3.0 in (76 mm)
— Seatback reclining: 9.1 degrees
— Seat lifter (rear side): 0.8 in (20 mm)
See also:
Bluetooth® Hands-Free Phone System
WARNING ► Use a phone after stopping your vehicle in a safe location. If you have to use a phone while driving, exercise extreme caution at all times so full attention may be given to ...
Compressed Audio Files (MP3/WMA/AAC)
Explanation of terms: • MP3 — MP3 is short for Moving Pictures Experts Group Audio Layer 3. MP3 is the most well known compressed digital audio file format. This format allows for near "CD quality" s ...
Display settings
To adjust the front display mode, push the SETTING button while the DVD is being played, select the "Others" key and then select the "Display" key. To adjust the display ON/OFF, brightness, tint, col ...