Maintenance information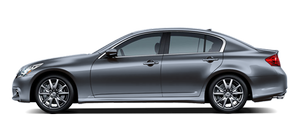 The maintenance intervals can be displayed for the engine oil, oil filter, tire and other reminders.
To set a maintenance interval, select a preferred item from the list.
You can also set to display a message to remind you that the maintenance needs to be performed.
The following example shows how to set the engine oil maintenance information.
Use the same steps to set the other maintenance information.
1. Set the interval (mileage) of the maintenance schedule. To determine the recommended maintenance interval, refer to your "INFINITI Service and Maintenance Guide".
2. To display the reminder automatically when the desired distance is reached, select the "Reminder" key.
3. Reset the driving distance to the new maintenance schedule.
4. To return to the previous screen, push the BACK button.
The unit can be converted between "US" and "Metric". (See "How to use SETTING button".)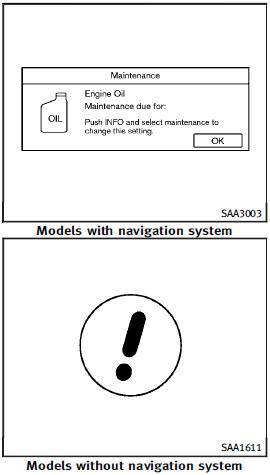 The Reminder will be automatically displayed when the specified distance has been driven and every time the ignition switch is pushed to the ACC or ON position.
The reminder will not appear while driving.
Select the "OK" key to hide the reminder for the rest of the current drive.
To stop the reminder from appearing, perform one of the following actions: . Select the "Reset Distance".
• Deactivate the "Reminder".
• Increase the "Interval" distance to be more than the current distance being tracked.
See also:
Warning light and display
WARNING light and display When the Preview Function is not operating properly, a chime sounds and the system warning light (orange) will come on. Action to take: If the warning light comes on, p ...
Lane Departure Prevention (LDP) system
Precautions on LDP system WARNING ► The LDP system will not steer the vehicle or prevent loss of control. It is the driver's responsibility to stay alert, drive safely, keep the vehicl ...
All-Wheel Drive (AWD) driving safety precautions
WARNING • Do not drive beyond the performance capability of the tires, even with AWD engaged. Accelerating quickly, sharp steering maneuvers or sudden braking may cause loss of control.• Always use t ...