USB (Universal Serial Bus) (if so equipped)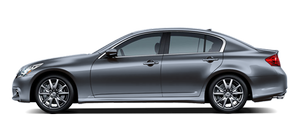 This system supports various USB memory sticks, USB hard drives and iPod® players.
There are some USB devices which may not be supported with this system.
• Make sure that the USB device is connected correctly into the USB connector.
• Do not force the memory stick or USB cable into the USB connector. This could damage the connector.
• During cold weather or rainy days, the player may malfunction due to humidity.
If this occurs, remove the USB device and dehumidify or ventilate the USB player completely.
• The USB player sometimes cannot function when the passenger compartment temperature is extremely high.
Decrease the temperature before use.
• Do not leave USB memory in a place prone to static electricity or where the air conditioner blows directly. The data in the USB memory may be damaged.
• The vehicle is not equipped with a USB memory stick.
• A USB device cannot be formatted with this system. To format a USB device, use a personal computer.
• Partitioned USB devices may not be played correctly.
• Some characters used in other languages (Chinese, Japanese, etc.) are not displayed properly on the vehicle center screen. Using English language characters with a USB device is recommended.
• Do not connect a USB device if a connector or cable is wet. Allow the cable and/or connectors to dry completely before connecting the USB device. If the connector is exposed to fluids other than water, evaporative residue may cause a short between the connector pins.
• Large video podcast files cause slow responses in an iPod®. The vehicle center display may momentarily black out, but it will soon recover.
• If an iPod® automatically selects large video podcast files while in the shuffle mode, the vehicle center display may momentarily black out, but it will soon recover.
• Audiobooks may not play in the same order as they appear on an iPod®.
• An iPod nano® (1st Generation) may remain in fast forward or rewind mode if it is connected during a seek operation.
In this case, please manually reset the iPod®.
• An iPod nano® (2nd Generation) will continue to fast forward or rewind if it is disconnected during a seek operation.
• An incorrect song title may appear when the Play Mode is changed while using the iPod nano® (2nd Generation) iPod® is a trademark of Apple Inc., registered in the U.S. and other countries.
See also:
On-pavement and off-road driving precautions
Utility vehicles have a significantly higher rollover rate than other types of vehicles. They have higher ground clearance than passenger cars to make them capable of performing in a variety of on-pa ...
QX56 in the Market
The QX56's do-it-all appeal is enough to make me look past its styling. Its people- and cargo-carrying abilities, its degree of luxury and its towing capacity are impressive. Despite the overly ...
Menu options
The start menu can be displayed using the menu control switch on the steering wheel controls. 1. While the MAP or STATUS screen is displayed, press and hold the menu control switch until the "Me ...