Music Box® (if so equipped)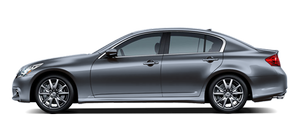 Recording:
• Note that data that is lost and not stored to the hard drive/flash memory due to system damage, improper operation or malfunction is not under warranty.
• Vehicle owners are not permitted to record music without permission of the owner of the copyright except for personal use.
• Check if the music is appropriately recorded to the hard drive/flash memory after recording when the compact disc cannot be rerecorded.
• Some music cannot be recorded depending on the disc condition due to high-speed recording.
• Jumping sounds may be recorded when a compact disc is recorded while driving on rough roads and excessive vibration occurs.
• A mark indicating jumping sounds is displayed if jumping sounds are recorded.
• No sounds may be recorded if jumping sounds occurs or the disc is in poor condition.
• Tracks that include Serial Copy Management System (SCMS) are not recorded.
• If a compact disc is scratched or dirty, it may not be recorded, jumping sounds may occur or it may take a long time to record.
Automatic title download:
• The title information that is automatically downloaded may differ from the actual title.
• When newly released compact discs are recorded, their title information may not be downloaded.
• The title information in the hard drive/ flash memory can be updated. (See "Playing recorded songs").
See also:
Backing up on a steep uphill
Backing up on a steep uphill When backing up the vehicle up a hill, the distance guide lines and the vehicle width guide lines are shown closer than the actual distance. For example, the display sh ...
Vanity mirror lights
The light on the vanity mirror will turn on when the cover on the vanity mirror is opened. When the cover is closed, the light will turn off. The lights will also turn off after 15 minut ...
Care and maintenance
Use a lightly dampened, lint free cloth to clean the surfaces of your Dual Head Restraint DVD System (DVD player face, screen, remote controller, etc.). CAUTION ► Do not use any solve ...