Bluetooth® settings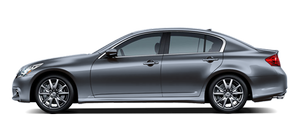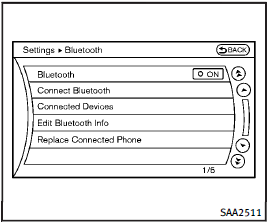 Bluetooth® settings
To set up the Bluetooth® device system to the preferred settings, push the SETTING button and select the "Bluetooth" key.
Bluetooth:
If this setting is turned off, the connection between the Bluetooth® devices and the in-vehicle Bluetooth® module will be canceled.
Connect Bluetooth:
Connects to the Bluetooth® device. See "Connecting procedure". Up to 5 devices can be registered.
Connected Devices:
Registered devices are shown on the list.
Select a Bluetooth® device from the list, the following options will be available.
• Select
Select "Select" to connect the selected device to the vehicle. If there is a different device currently connected, the selected device will replace the current device.
• Edit
Rename the selected Bluetooth® device using the keypad displayed on the screen. (See "How to use touch screen (models with navigation system)".)
• Delete
Delete the selected Bluetooth® device.
Edit Bluetooth Info:
Change the name broadcasted by this system over Bluetooth®. Change the PIN code that is entered when connecting a hands free device to this system.
Replace Connected Phone:
Replace the Bluetooth® connection with a connected Bluetooth® cellular phone. For details about Hands-Free Phone System, see "Bluetooth® Hands-Free Phone System (models with navigation system)".
See also:
Reformulated gasoline
Some fuel suppliers are now producing reformulated gasolines. These gasolines are specially designed to reduce vehicle emissions. INFINITI supports efforts towards cleaner air and suggests that you us ...
Changing wheels and tires
Tire rotation (Models equipped with same size tires on all wheels) INFINITI recommends rotating the tires every 7,500 miles (12,000 km). (See "Flat tire" for tire replacing procedures.) As soon a ...
Brake booster
Check the brake booster function as follows: 1. With the engine off, depress and release the foot brake pedal more than 20 times. When the foot brake pedal movement (distance of travel) rema ...