During a call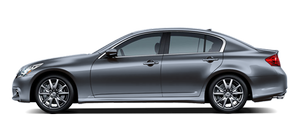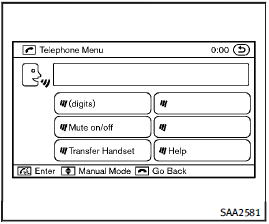 During a call
During a call there are several command options available. Press the

button on the steering wheel to mute the receiving voice and enter commands.
• "(digits)" — Use the Send command to enter numbers during a call. For example, if directed to dial an extension by an automated system: Speak: "Sending one two three four." The system acknowledges the command and sends the tones associated with the numbers. The system then ends the VR session and returns to the call.
• "Mute on/off" — Use the Mute command to mute the user's voice so the other party cannot hear it.
Use the mute command again to unmute the user's voice.
• "Transfer Handset" — Use the Transfer Handset command to transfer the call from the Bluetooth® Hands-Free Phone System to a cellular phone when privacy is desired. The system announces, "Transfer Handset. The call is transferred to the handset only." The system then ends the VR session.
The Transfer Call command can also be issued again to return to a hands-free call through the vehicle.
• "Help" — The system announces the available commands.
NOTE:
If the other party ends the call or the cellular phone network connection is lost while the Mute feature is on, the Mute feature may need to be reset to "off."
See also:
How Does It Stack Up?
Draw comparisons to the M or AMG bunch, and this Infiniti does not. It is a tad coarse compared with even a BMW 335i coupe or Audi S5. The VQ-series engine isn't as smooth as a Bimmer's, and the I ...
Child safety rear door lock
Child safety rear door locks help prevent doors from being opened accidentally, especially when small children are in the vehicle. When the levers are in the lock position 1 , the rear door ...
Interior trunk lid release
WARNING Closely supervise children when they are around cars to prevent them from playing and becoming locked in the trunk where they could be seriously injured. Keep the car locked, with the trunk l ...