Wheel balance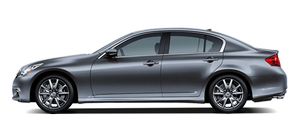 Unbalanced wheels may affect vehicle handling and tire life. Even with regular use, wheels can get out of balance. Therefore, they should be balanced as required.
Wheel balance service should be performed with the wheels off the vehicle.
Spin balancing the wheels on the vehicle could lead to mechanical damage.
For additional information regarding tires, refer to "Important Tire Safety Information" (US) or "Tire Safety Information" (Canada) in the INFINITI Warranty Information Booklet.
See also:
Temperature
A temperature increase will accelerate the rate of corrosion to those parts which are not well ventilated. ...
Driving safety precautions
Your INFINITI is designed for both normal and off-road use. However, avoid driving in deep water or mud as your INFINITI is mainly designed for leisure use, unlike a conventional off-road vehicle. ...
If your vehicle overheats
WARNING ● Do not continue to drive if your vehicle overheats. Doing so could cause engine damage or a vehicle fire. ● To avoid the danger of being scalded, never remove the radiator ...