Opening windows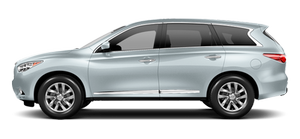 The Intelligent Key allows you to simultaneously open windows equipped with automatic operation.
● To open the windows, press the

button on the Intelligent Key for longer than 3 seconds after all doors are unlocked.
The door windows will open while pressing the

button on the Intelligent Key.
The door windows cannot be closed by using the Intelligent Key.
See also:
Audio main operation
Push the ignition switch to the ACC or ON position. Then, push the DISC·AUX or DISC button repeatedly to switch to the iPod® mode. If the system has been turned off while the iPod® was playing, pushi ...
iPod® player operation
Connecting iPod® Open the tray lid and connect the iPod® cable to the USB connector. If the iPod® supports charging via USB, the battery of the iPod® will be charged while connected to the ...
Jump starting
If jump starting is necessary, see "Jump starting" in the "In case of emergency" section of this manual. If the engine does not start by jump starting, the battery may have to be replaced. Contact ...