Automatic drive positioner (if so equipped)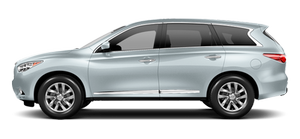 The automatic drive positioner system has three features:
● Memory storage function
● Entry/exit function
● Seat synchronization function
See also:
2013 Infiniti JX35 Review
Don't you ever wish car companies would get with the program and hire a real expert? Not some stuffy pinstriped suit but rather a parent, like yourself, who has the same automotive needs, wants an ...
Parking brake break-in
Break in the parking brake shoes whenever the stopping effect of the parking brake is weakened or whenever the parking brake shoes and/or drums/rotors are replaced, in order to assure the best braking ...
Vehicle load capacity
Do not exceed the load limit of your vehicle shown as "The combined weight of occupants and cargo" on the Tire and Loading Information label. Do not exceed the number of occupants shown as "Seating ...