Confirming memory storage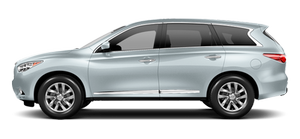 ● Place the ignition switch in the ON position and push the SET switch. If the main memory has not been stored, the indicator light will come on for approximately 0.5 seconds.
When the memory has stored the position, the indicator light will stay on for approximately 5 seconds.
● If the battery cable is disconnected, or if the fuse opens, the memory storage function will be canceled and must be restarted before a stored memory position can be set again.
Drive the vehicle over 25 MPH (40 km/h) to restart the memory storage function. You can also restart the memory storage function using the following procedure.
1. Connect the battery cable or replace the fuse.
2. Open and close the driver's door more than 2 times with the ignition switch in the LOCK position.
Once the memory storage function has been restarted, you can store a memory position.
See "Memory storage function" in this section.
See also:
Avoiding collision and rollover
WARNING Failure to operate this vehicle in a safe and prudent manner may result in loss of control or an accident. Be alert and drive defensively at all times. Obey all traffic regulations. Avoid ...
When traveling or registering your vehicle in another country
When planning to drive your INFINITI vehicle in another country, you should first find out if the fuel available is suitable for your vehicle's engine. Using fuel with an octane rating that is too ...
Voice Adaptation (VA) mode
Voice Adaptation allows up to two out-of-dialect users to train the system to improve recognition accuracy. By repeating a number of commands, the users can create a voice model of their own voice tha ...