2009 Infiniti FX35 Review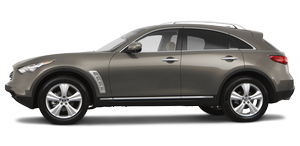 Not many people need a sporty luxury SUV like the Infiniti FX. You either want the utility of an SUV or the sportiness of a sedan or coupe Ч why would you compromise both for an unwieldy hybrid of the two? Maybe looks have more to do with popularity than anything else, though, and the new 2009 Infiniti FX Ч along with its just-introduced competition, the BMW X6 Ч offers style to make up for the compromised substance.
I drove both the all-new BMW X6 and the redesigned 2009 FX back-to-back on and around Wisconsin's Road America raceway and found the X6 the far superior vehicle. After living with both in the real world, though, and spending a full week with the FX35, it's glaringly apparent that the FX is the real winner when it comes to real-world use Ч even if it is pricey and doesn't hold a lot of cargo or give a commanding view of the road. Plus, my dog couldn't ride in the back because of the sloping roofline.
Oh, and one more thing I learned from my week of testing: I really want an Infiniti FX35.
See also:
In-cabin microfilter
The in-cabin microfilter restricts the entry of airborne dust and pollen particles and reduces some objectionable outside odors. The filter is located behind the glove box. Refer to the УINFINITI Serv ...
2010 Infiniti G37 Review
If you're shopping $40,000 sport sedans, the Infiniti G37 is required driving: It is smartly appointed, well-equipped, reliable and as much of a hoot to drive as the BMW 3 Series. The BMW pedestal ...
Top tether strap child restraint
If the manufacturer of your child restraint requires the use of a top tether strap, it must be secured to an anchor point. WARNING ► In the 3rd row bench seat, a child restraint with a ...