Before operating dual head restraint DVD system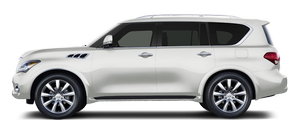 Precautions
Start the engine when using the Dual Head Restraint DVD System.

WARNING
The driver must not attempt to operate the Dual Head Restraint DVD System or wear the headphones while the vehicle is in motion so that full attention may be given to vehicle operation.

CAUTION
► Only operate the Dual Head Restraint DVD System while the vehicle engine is running. Operating the Dual Head Restraint DVD System for extended periods of time with the engine OFF can discharge the vehicle battery.
► Do not allow the system to get wet. Excessive moisture such as spilled liquids may cause the system to malfunction.
► While playing VIDEO-CD media, this DVD player does not guarantee complete functionality of all VIDEO-CD formats.
Parental level (parental control)
Video data with the parental control setting can be played with this system. Please use your own judgement to set the parental control with the system.
Disc selection
You can play the following disc formats with the DVD player:
► DVD-VIDEO
► VIDEO-CD
► DTS-CD
Use DVDs with the region code "ALL" or the code applicable to your country. (The region code is displayed as a small symbol printed on the top of the DVD.) This vehicle-installed DVD player can only play DVDs with an applicable region code. Available audio sources The following sources are available to play on each display:
Front display:
► Radio
► CD/DVD
► USB memory/iPod®
► Music Box® (if so equipped)
► Bluetooth® audio
► AUX (FRONT)
Rear display:
► DVD
► USB memory with video files
► AUX (FRONT/REAR)
See also:
Unlocking doors
1. Carry the Intelligent Key. 2. Push the door handle request switch. 3. The hazard warning lights flash once and the outside buzzer sounds once. 4. Push the door handle request switch agai ...
Automatic drive positioner
SET/memory switches The automatic drive positioner system has three features: ► Entry/exit function► Memory storage► Setting memory function ...
Intelligent Key battery discharge
Intelligent Key battery discharge If the battery of the Intelligent Key is almost discharged, the guide light B of the Intelligent Key port A blinks and the indicator appears on the dot matrix li ...