Cleaning exterior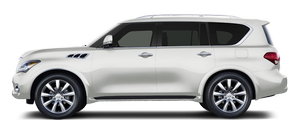 In order to maintain the appearance of your vehicle, it is important to take proper care of it. To protect the paint surface, wash your vehicle as soon as you can:
► after a rainfall to prevent possible damage from acid rain
► after driving on coastal roads
► when contaminants such as soot, bird droppings, tree sap, metal particles or bugs get on the paint surface
► when dust or mud builds up on the surface Whenever possible, store or park your vehicle inside a garage or in a covered area. When it is necessary to park outside, park in a shady area or protect the vehicle with a body cover.
Be careful not to scratch the paint surface when putting on or removing the body cover.
See also:
Outside mirrors
Outside mirrors WARNING Objects viewed in the outside mirror on the passenger side are closer than they appear. Be careful when moving to the right. Using only this mirror could cause an accident ...
Opening the fuel-filler door
To open the fuel-filler door, unlock the fuelfiller door by using one of the following operations, then push the right side of the door. ► Push the driver's door handle request switc ...
Infiniti G in the Market
Bolstered by the addition of the G25, the G has seen a sales surge uncommon this late in a car's life cycle: It's edged out the C-Class and come within striking distance of the 3 Series — the segm ...