Tire dressing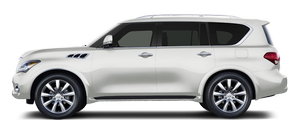 INFINITI does not recommend the use of tire dressings. Tire manufacturers apply a coating to the tires to help reduce discoloration of the rubber. If a tire dressing is applied to the tires, it may react with the coating and form a compound. This compound may come off the tire while driving and stain the vehicle paint. If you choose to use a tire dressing, take the following precautions:
► Use a water-based tire dressing. The coating on the tire dissolves more easily with an oil-based tire dressing.
► Apply a light coat of tire dressing to help prevent it from entering the tire tread/grooves (where it would be difficult to remove).
► Wipe off excess tire dressing using a dry towel. Make sure the tire dressing is completely removed from the tire tread/grooves.
► Allow the tire dressing to dry as recommended by tire dressing manufacturer.
See also:
What Is It?
Infiniti's first crack at the in-house tuner idea. IPL stands for Infiniti Performance Line, the company's new performance subbrand. The IPL differs from good old Gs in that it has a more aggressi ...
Storage tray
WARNING Do not place sharp objects in the trays to help prevent injury in an accident or sudden stop. ...
Emission control information label
Emission control information label The emission control information label is attached as shown. ...