Bluetooth« settings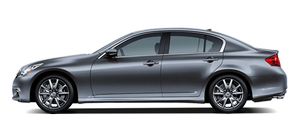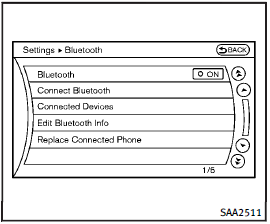 Bluetooth« settings
To set up the Bluetooth« device system to the preferred settings, push the SETTING button and select the ôBluetoothö key.
Bluetooth:
If this setting is turned off, the connection between the Bluetooth« devices and the in-vehicle Bluetooth« module will be canceled.
Connect Bluetooth:
Connects to the Bluetooth« device. See ôConnecting procedureö. Up to 5 devices can be registered.
Connected Devices:
Registered devices are shown on the list.
Select a Bluetooth« device from the list, the following options will be available.
Ľ Select
Select ôSelectö to connect the selected device to the vehicle. If there is a different device currently connected, the selected device will replace the current device.
Ľ Edit
Rename the selected Bluetooth« device using the keypad displayed on the screen. (See ôHow to use touch screen (models with navigation system)ö.)
Ľ Delete
Delete the selected Bluetooth« device.
Edit Bluetooth Info:
Change the name broadcasted by this system over Bluetooth«. Change the PIN code that is entered when connecting a hands free device to this system.
Replace Connected Phone:
Replace the Bluetooth« connection with a connected Bluetooth« cellular phone. For details about Hands-Free Phone System, see ôBluetooth« Hands-Free Phone System (models with navigation system)ö.
See also:
Seat synchronization function
The seat synchronization function automatically adjusts the positions of the steering wheel and outside mirrors when the seat is adjusted using the power seat switches. However, the steering wheel an ...
Remote keyless entry system
WARNING The Intelligent Key transmits radio waves when the buttons are pushed. The FAA advises that radio waves may affect aircraft navigation and communication systems. Do not operate the ...
General maintenance
During the normal day-to-day operation of the vehicle, general maintenance should be performed regularly as prescribed in this section. If you detect any unusual sounds, vibrations or smells, be sure ...