Adaptive shift control (ASC)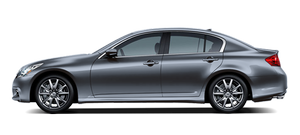 The adaptive shift control system automatically operates when the transmission is in the "D" (drive) and "DS" (Drive Sport) position and selects an appropriate gear depending on the road conditions such as uphill, downhill or curving roads.
Control on uphill and curving roads:
A low gear is maintained that suits the degree of the slope or curve to allow smooth driving with a small number of shifts.
Control on downhill roads:
The adaptive shift control system shifts to a low gear that suits the degree of the slope, and uses the engine braking to reduce the number of times that the brake must be used.
Control on winding roads:
A low gear is maintained on continuous curves that involve repeated acceleration and deceleration, so that smooth acceleration is available instantly when the accelerator pedal is depressed.
NOTE:
• Adaptive shift control may not operate when the transmission oil temperature is low immediately after the start of driving or when it is very hot.
• During some driving situations, hard braking for example, the adaptive shift control may automatically operate. The transmission may automatically shift to a lower gear for engine braking. This increases engine speed but not vehicle speed. Vehicle speed is controlled by the accelerator pedal when the vehicle is in the Adaptive shift control mode.
• When the adaptive shift control operates, the transmission sometimes maintains a lower gear for a longer period of time than when adaptive shift control is not operating. Engine speed will be higher for a specific vehicle speed while ASC system is operating than when ASC is not operating.
See also:
Xenon headlights
WARNING HIGH VOLTAGE• When xenon headlights are on, they produce a high voltage. To prevent an electric shock, never attempt to modify or disassemble. Always have your xenon headlights replaced at a ...
Capacities and recommended fuel/lubricants
The following are approximate capacities. The actual refill capacities may be a little different. When refilling, follow the procedure instructed in the "8. Maintenance and do-it-yourself" section ...
Settings
The setting mode allows you to change the information displayed in the vehicle information display: ● Driver Assistance (if so equipped) ● Main Menu Selection ● Body Color ...