Safety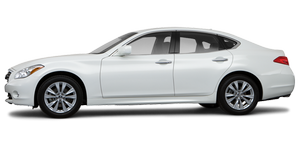 When I first picked up the test car, it beeped at me several times while I was driving on the highway. It took me a minute to figure out that it was beeping every time I drifted into another lane. This was the Lane Departure Warning system in action. There's a small camera mounted behind the windshield that detects lane markers, and when the car drifts out of its lane, the system responds with an alarm and a blinking light in the speedometer. If you don't straighten yourself out, the stability system lightly applies brake pressure and steers the car back into your correct lane. Geesh! I began to wonder if this car could make a cup of tea for me, too.
A backup camera is available on the M35x, and it has handy on-screen guidelines to show you where you're going.
Brake assist is standard, and it applies the maximum brake force needed to prevent a collision. Apparently, many drivers don't apply enough force to the brakes quickly enough to avoid a collision, and this safety feature helps with that problem.
There are six airbags, including front-, side-impact and side curtain airbags for both rows. The M35x also has antilock brakes, an electronic stability system, traction control and active head restraints for the front seats.
FAMILY LIFESTAGE
In Diapers: There's plenty of space for rear-facing infant seats and convertible child-safety seats.
In School: The kids will love the rear DVD player; you'll love the two sets of wireless headphones.
Teens: Teens won't mind sitting in the backseat because it reclines.
See also:
Traction AA, A, B and C
The traction grades, from highest to lowest, are AA, A, B and C. Those grades represent the tire's ability to stop on wet pavement as measured under controlled conditions on specified government test ...
Where to go for service
If maintenance service is required or your vehicle appears to malfunction, have the systems checked and serviced by an INFINITI retailer. INFINITI technicians are well-trained specialists an ...
Opening windows
The UNLOCK button operation also allows you to open the window that is equipped with the automatic open/close function. (See "Power windows"). To open the window, push the door UNLOCK button 2 on ...