Manual Transmission models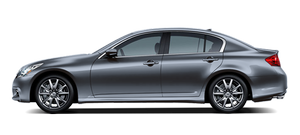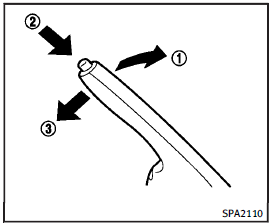 Manual Transmission models
To apply: Pull the parking brake lever up 1 .
To release:
1. Firmly apply the foot brake.
2. While pulling up on the parking brake lever slightly, push the button 2 and lower the lever completely 3 .
3. Before driving, be sure the brake warning light goes out.
See also:
Aftermarket fuel additives
INFINITI does not recommend the use of any aftermarket fuel additives (Example: fuel injector cleaner, octane booster, intake valve deposit removers, etc.) which are sold commercially. Many of these a ...
Smooth Power, Rough Ride
Driving the IPL home after a long workweek was like slamming a shot of espresso. It's fast and exhilaratingly fun to drive … but so is the base G37 coupe. The IPL adds 18 hp, but I really couldn't ...
Passenger compartment
1. Cargo light (P.2-68) 2. Cup holders (3rd row seat) (P.2-55) 3. Rear ventilators (P.4-32) 4. Coat hooks (P.2-59) 5. Rear personal lights (P.2-66) 6. Tray (P.2-58) — USB memory operatio ...