Power steering fluid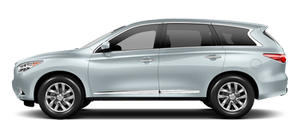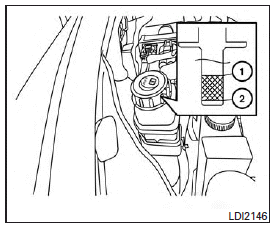 Check the fluid level in the reservoir.
The fluid level should be checked when the fluid is cold at fluid temperatures of 32 to 86ºF (0 to 30ºC). The fluid level can be checked with the level gauge which is attached to the cap. To check the fluid level, remove the cap. The fluid level should be between the MAX 1 and MIN 2 lines.
If the fluid is below the MIN 2 line, add Genuine NISSAN E-PSF. Remove the cap and fill through the opening.
CAUTION
● Do not overfill.
● Use of a power steering fluid other than Genuine NISSAN E-PSF will prevent the power steering system from operating properly.
● Power steering fluid is poisonous and should be stored carefully in marked containers out of the reach of children.
See also:
It's the little things that count
Storage Compartments (Puny, Fair, Ample, Galore): Galore Cargo/Trunk Space (Puny, Fair, Ample, Galore): Galore ...
Xenon headlights
WARNING HIGH VOLTAGE ● When xenon headlights are on, they produce a high voltage. To prevent an electric shock, never attempt to modify or disassemble. Always have your xenon headlights re ...
Car phone or CB radio
When installing a CB, ham radio or car phone in your INFINITI, be sure to observe the following precautions; otherwise, the new equipment may adversely affect the engine control system and other elect ...