Vacuum assisted brakes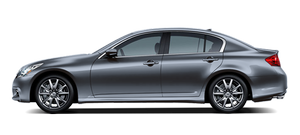 The brake booster aids braking by using engine vacuum. If the engine stops, you can stop the vehicle by depressing the brake pedal. However, greater foot pressure on the brake pedal will be required to stop the vehicle and the stopping distance will be longer.
When the brake pedal is depressed slowly and firmly, you may hear a clicking noise and feel a slight pulsation. This is normal and indicates that the Brake Assist System is operating.
See also:
Styling & Quality
I won't waste much virtual ink describing the M's styling qualities; they're better shown in the thumbnails at right. Models with the Sport package get 19-inch alloy wheels, while others have 18-i ...
Auto closure
If the lift gate is pulled down to a partly open position, the lift gate will pull itself to the closed position. Do not apply excessive force when the auto closure is operating. Excessive for ...
Radio
Place the ignition switch in the ACC or ON position and press the VOL (volume)/ON·OFF (power) knob to turn the radio on. If you listen to the radio with the engine not running, the ignition switch sho ...