BEHIND THE WHEEL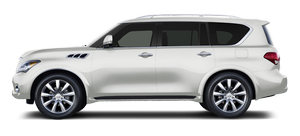 While some may enjoy the perception of safety they feel when driving a large SUV that can plow over anything and everything it may encounter, I found the QX56 to have some disconnection from the road. Its driving quality was refined, but the ride felt floaty. I had to simply trust that it was doing what it was supposed to while driving over icy roads; I was so far away from having any direct road feedback.
Acceleration in the QX, which sports a 5.6-liter V-8 engine with 400 horsepower, is light and easy, but moving such a behemoth that quickly comes at a cost. In this case, it's fuel consumption: The QX56 gets an EPA-estimated 14/20 mpg city/highway with either rear- or four-wheel drive. Ouch.
See also:
Securing the load
There are luggage hooks located in the cargo area as shown. The hooks can be used to secure cargo with ropes or other types of straps. Do not apply a total load of more than 6.5 lbs. (29 N) to a si ...
Hurry Up? Wait.
The main problem I had with the FX35 was its seven-speed automatic transmission, which was added in 2009. It hesitates so much when you call for more power that I have a hard time calling this SUV ...
Sensor maintenance
The sensor for the ICC system A is located below the front bumper. To keep the ICC system operating properly, be sure to observe the following: ● Always keep the sensor clean. Wipe with ...