BEHIND THE WHEEL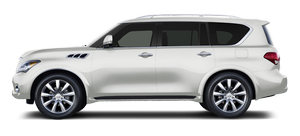 While some may enjoy the perception of safety they feel when driving a large SUV that can plow over anything and everything it may encounter, I found the QX56 to have some disconnection from the road. Its driving quality was refined, but the ride felt floaty. I had to simply trust that it was doing what it was supposed to while driving over icy roads; I was so far away from having any direct road feedback.
Acceleration in the QX, which sports a 5.6-liter V-8 engine with 400 horsepower, is light and easy, but moving such a behemoth that quickly comes at a cost. In this case, it's fuel consumption: The QX56 gets an EPA-estimated 14/20 mpg city/highway with either rear- or four-wheel drive. Ouch.
See also:
Uniform tire quality grading
DOT (Department of Transportation) Quality Grades: All passenger car tires must conform to federal safety requirements in addition to these grades. Quality grades can be found where applicable on t ...
2011 Infiniti EX35 Review
As soon as I took off in the 2011 Infiniti EX35, I immediately felt like I was driving with my grandmother. I mean that in a good way. With her desire to keep me and my passengers safe, she lets m ...
Cup holders
CAUTION ► Avoid abrupt starting and braking when the cup holder is being used to prevent spilling the drink. If the liquid is hot, it can scald you or your passenger. ► Use onl ...