Anti-lock Braking System (ABS)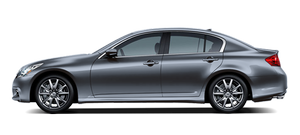 WARNING
• The Anti-lock Braking System (ABS) is a sophisticated device, but it cannot prevent accidents resulting from careless or dangerous driving techniques. It can help maintain vehicle control during braking on slippery surfaces. Remember that stopping distances on slippery surfaces will be longer than on normal surfaces even with ABS. Stopping distances may also be longer on rough, gravel or snow covered roads, or if you are using tire chains. Always maintain a safe distance from the vehicle in front of you. Ultimately, the driver is responsible for safety.
• Tire type and condition may also affect braking effectiveness.
— When replacing tires, install the specified size of tires on all four wheels.
— When installing a spare tire, make sure that it is the proper size and type as specified on the Tire and Loading Information label. See "Tire and loading information label" of this manual.
— For detailed information, see "Wheels and tires" of this manual.
The Anti-lock Braking System (ABS) controls the brakes so the wheels do not lock during hard braking or when braking on slippery surfaces. The system detects the rotation speed at each wheel and varies the brake fluid pressure to prevent each wheel from locking and sliding. By preventing each wheel from locking, the system helps the driver maintain steering control and helps to minimize swerving and spinning on slippery surfaces.
See also:
High-End Technology
A couple high-tech options broke new automotive ground upon their arrival in last year's EX: the Around View Monitor and Lane Departure Prevention. Infiniti subsequently added both to several othe ...
Measurement of weights
Secure loose items to prevent weight shifts that could affect the balance of your vehicle. When the vehicle is loaded, drive to a scale and weigh the front and the rear wheels separately to determine ...
Compact Disc (CD) player
Compact Disc (CD) player • Do not force a compact disc into the CD insert slot. This could damage the CD and/or CD player. • Trying to load a CD with the CD door closed could damage the CD and/or ...