Normal operation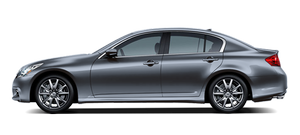 The ABS operates at speeds above 3 to 6 MPH (5 to 10 km/h).
When the ABS senses that one or more wheels are close to locking up, the actuator rapidly applies and releases hydraulic pressure. This action is similar to pumping the brakes very quickly. You may feel a pulsation in the brake pedal and hear a noise from under the hood or feel a vibration from the actuator when it is operating. This is normal and indicates that the ABS is operating properly. However, the pulsation may indicate that road conditions are hazardous and extra care is required while driving.
See also:
Chassis and driving dynamics
Infiniti G37 Coupé uses the second-generation version of Infiniti's FM platform. The 'front midship' engine location sees the compact V6 mounted in the front of the car, but as low and as f ...
Programming HomeLink for Canadian customers
Prior to 1992, D.O.C. regulations required handheld transmitters to stop transmitting after 2 seconds. To program your hand-held transmitter to HomeLink , continue to press and hold the HomeLink bu ...
Intelligent Key operating range
Intelligent Key operating range The Intelligent Key functions can only be used when the Intelligent Key is within the specified operating range from the request switch 1 . When the Intelligent K ...