Tire Pressure Monitoring System (TPMS)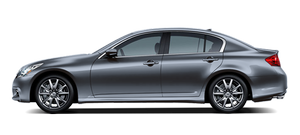 This vehicle is equipped with the Tire Pressure Monitoring System (TPMS). It monitors tire pressure of all tires except the spare. When the low tire pressure warning light is lit and the CHECK TIRE PRESSURE warning appears on the dot matrix liquid crystal display, one or more of your tires is significantly under-inflated.
If the vehicle is being driven with low tire pressure, the TPMS will activate and warn you of it by the low tire pressure warning light. This system will activate only when the vehicle is driven at speeds above 16 MPH (25 km/h). For more details, see "Warning/indicator lights and audible reminders" and "Tire Pressure Monitoring System (TPMS)".
WARNING
• If the low tire pressure warning light illuminates while driving, avoid sudden steering maneuvers or abrupt braking, reduce vehicle speed, pull off the road to a safe location and stop the vehicle as soon as possible. Driving with underinflated tires may permanently damage the tires and increase the likelihood of tire failure. Serious vehicle damage could occur and may lead to an accident and could result in serious personal injury. Check the tire pressure for all four tires. Adjust the tire pressure to the recommended COLD tire pressure shown on the Tire and Loading Information label to turn the low tire pressure warning light OFF. If the light still illuminates while driving after adjusting the tire pressure, a tire may be flat. If you have a flat tire, replace it with a spare tire as soon as possible.
• When a spare tire is mounted or a wheel is replaced, the TPMS will not function and the low tire pressure warning light will flash for approximately 1 minute.
The light will remain on after 1 minute.
Contact your INFINITI retailer as soon as possible for tire replacement and/or system resetting.
• Replacing tires with those not originally specified by INFINITI could affect the proper operation of the TPMS.
• Do not inject any tire liquid or aerosol tire sealant into the tires, as this may cause a malfunction of the tire pressure sensors.
See also:
Fuel gauge
The gauge indicates the approximate fuel level in the tank. The gauge may move slightly during braking, turning, acceleration, or going up or down hills. The gauge needle returns to 0 (Empty) ...
Engine oil and oil filter recommendation
1. API certification mark2. API service symbol ...
Power steering
WARNING If the engine is not running or is turned off while driving, the power assist for the steering will not work. Steering will be harder to operate. The power assisted steering uses a hydraulic ...