How to change the set distance to thevehicle ahead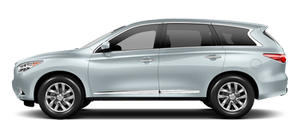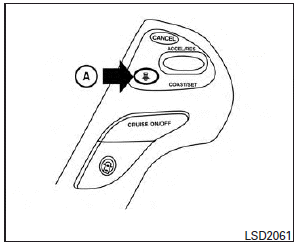 The distance to the vehicle ahead can be selected at any time depending on the traffic conditions.
Each time the distance switch A is pushed, the set distance will change to long, average, short and back to long again in that sequence.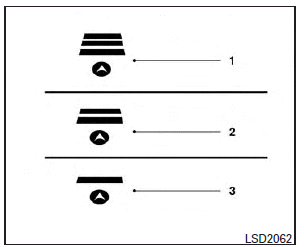 Distance Approximate distance at 60 MPH (100 km/h) [ft (m)]
1. Long 200 (60)
2. Average 150 (45)
3. Short 100 (30
● The distance to the vehicle ahead will change according to the vehicle speed. The higher the vehicle speed, the longer the distance.
● If the engine is stopped, the set distance becomes УlongФ. (Each time the engine is started, the initial setting becomes УlongФ.)
See also:
Opening the fuel-filler door
The fuel-filler door automatically unlocks when the driverТs door is unlocked. 1. Unlock the fuel-filler door using one of the following operations. ● Unlock the all door with the keyf ...
Unique front and rear parts (INFINITI Performance Line, Aerodynamic Package models)
INFINITI Performance Line models The INFINITI Performance Line models have unique exhaust pipes. These parts are close to the ground and may be damaged if they contact objects such as parking block ...
2010 Infiniti G37 Review
If you're shopping $40,000 sport sedans, the Infiniti G37 is required driving: It is smartly appointed, well-equipped, reliable and as much of a hoot to drive as the BMW 3 Series. The BMW pedestal ...