2010 Infiniti G37 Review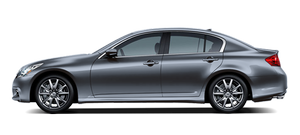 If you're shopping $40,000 sport sedans, the Infiniti G37 is required driving: It is smartly appointed, well-equipped, reliable and as much of a hoot to drive as the BMW 3 Series.
The BMW pedestal is high praise; in terms of sheer driving dynamics, the G37 is arguably the only competitor that can share that position. For 2010, the G comes as a sedan, coupe or convertible and is available in base, Journey, Sport and Anniversary editions. Click here to see the whole lineup or here to compare the 2010 G37 with the 2009. We evaluated the 2010 convertible earlier this year, so this review focuses on the car we drove more recently: an all-wheel-drive G37x Sport.
See also:
When traveling or registering your vehicle in another country
When planning to drive your INFINITI vehicle in another country, you should first find out if the fuel available is suitable for your vehicle's engine. Using fuel with an octane rating that is too ...
Underbody
In areas where road salt is used in winter, the underbody must be cleaned regularly. This will prevent dirt and salt from building up and causing the acceleration of corrosion on the underbody ...
Fuel-filler cap
WARNING ► Gasoline is extremely flammable and highly explosive under certain conditions. You could be burned or seriously injured if it is misused or mishandled. Always stop engine an ...