Rocking a stuck vehicle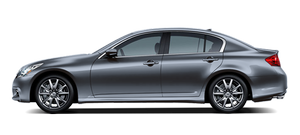 If your vehicle is stuck in sand, snow, mud, etc., use the following procedure: 1. Turn off the Vehicle Dynamic Control (VDC) system.
2. Make sure the area in front and behind the vehicle is clear of obstructions.
3. Turn the steering wheel right and left to clear an area around the front tires.
4. Slowly rock the vehicle forward and backward.
• Shift back and forth between R (reverse) and D (drive) (automatic transmission models) or 1st (low) and R (reverse) (manual transmission models).
• Apply the accelerator as little as possible to maintain the rocking motion.
• Release the accelerator pedal before shifting between R and D (automatic transmission models) or 1st and R (manual transmission models).
• Do not spin the tires above 35 MPH (55 km/h).
5. If the vehicle cannot be freed after a few tries, contact a professional towing service to remove the vehicle.
See also:
Interior
The interior of the FX is right in line with most current Infinitis, like the G and M sedans, but I thought it should have been a bit fancier, like the new EX35 crossover that debuted earlier this ...
Vehicle load capacity
Do not exceed the load limit of your vehicle shown as "The combined weight of occupants and cargo" on the Tire and Loading Information label. Do not exceed the number of occupants shown as "Seating Ca ...
Infants
Infants up to at least 1 year old should be placed in a rear-facing child restraint. INFINITI recommends that infants be placed in child restraints that comply with Federal Motor Vehicle Safety Stand ...