Looks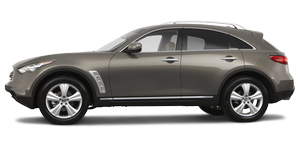 Bold is in. Every new car, SUV, crossover, hatchback Ч you name it Ч has to be distinctive in terms of exterior styling. Infiniti is certainly buying into that philosophy with the FX. Just look at the pictures and you'll see that the FX is striking. In person, the bulges on the hood are what really set it apart visually from anything else I've driven, both in terms of exterior style and in terms of the view from the driver's seat.
Most SUV hoods drop down radically, and the seats are positioned so high off the ground you don't even notice what's out in front of you. That's not the case with the FX. Instead, the curvaceous hood's bulges stick out like two sore thumbs Ч albeit good-looking sore thumbs Ч and the seat is slung back like a sports coupe's. A high beltline leads to a window that starts at shoulder level, adding to a seeming lack of visibility.
Now, you would think all that would make the FX a pain to see out of, but besides the relatively small rear window, I had no problems navigating the beastly SUV around parking lots and merging traffic. After a few days you learn where the corners of the hood are so you can get into tight spots, and the large side-view mirrors help with the traffic issue.
You also give up some cargo area for these hot looks, but I'll get into that later.
See also:
Control buttons
1) PHONE SEND button ...
Cup holders
CAUTION Х Avoid abrupt starting and braking when the cup holder is being used to prevent spilling the drink. If the liquid is hot, it can scald you or your passenger.Х Use only soft cups in the cup h ...
Tire equipment
SUMMER tires have a tread designed to provide superior performance on dry pavement. However, the performance of these tires will be substantially reduced in snowy and icy conditions. If you operate y ...