Looks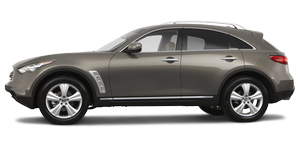 Bold is in. Every new car, SUV, crossover, hatchback — you name it — has to be distinctive in terms of exterior styling. Infiniti is certainly buying into that philosophy with the FX. Just look at the pictures and you'll see that the FX is striking. In person, the bulges on the hood are what really set it apart visually from anything else I've driven, both in terms of exterior style and in terms of the view from the driver's seat.
Most SUV hoods drop down radically, and the seats are positioned so high off the ground you don't even notice what's out in front of you. That's not the case with the FX. Instead, the curvaceous hood's bulges stick out like two sore thumbs — albeit good-looking sore thumbs — and the seat is slung back like a sports coupe's. A high beltline leads to a window that starts at shoulder level, adding to a seeming lack of visibility.
Now, you would think all that would make the FX a pain to see out of, but besides the relatively small rear window, I had no problems navigating the beastly SUV around parking lots and merging traffic. After a few days you learn where the corners of the hood are so you can get into tight spots, and the large side-view mirrors help with the traffic issue.
You also give up some cargo area for these hot looks, but I'll get into that later.
See also:
A Tight Fit
Rather than cramped, the front of the IPL's cabin feels cozy, especially the heavily bolstered sport seats. I found them snug, especially while cornering, but some people may find them too constri ...
Removing spots
Remove tar and oil spots, industrial dust, insects, and tree sap as quickly as possible from the paint surface to avoid lasting damage or staining. Special cleaning products are available at a ...
Audio main operation
Push the ignition switch to the ACC or ON position. Then, push the DISC·AUX button repeatedly to switch to the Bluetooth® audio mode. If the system has been turned off while the Bluetooth® audio dev ...