Tire dressing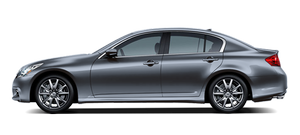 INFINITI does not recommend the use of tire dressings. Tire manufacturers apply a coating to the tires to help reduce discoloration of the rubber. If a tire dressing is applied to the tires, it may react with the coating and form a compound. This compound may come off the tire while driving and stain the vehicle paint.
If you choose to use a tire dressing, take the following precautions: . Use a water-based tire dressing. The coating on the tire dissolves more easily with an oil-based tire dressing.
• Apply a light coat of tire dressing to help prevent it from entering the tire tread/grooves (where it would be difficult to remove).
• Wipe off excess tire dressing using a dry towel. Make sure the tire dressing is completely removed from the tire tread/grooves.
• Allow the tire dressing to dry as recommended by tire dressing manufacturer.
See also:
It goes faster.
We start our trip around the upgraded IPL G Coupe in the engine bay where, aside from the chrome IPL badge on the engine cover, not much is different from a standard G37. Yep, that's the same 3.7- ...
Rain-sensing auto wiper system (if so equipped)
Rain-sensing auto wiper system (if so equipped) The rain-sensing auto wiper system can automatically turn on the wipers and adjust the wiper speed depending on the rainfall and the vehicle speed by ...
INFINITI Advanced Air Bag System (front seats)
WARNING To ensure proper operation of the passenger's advanced air bag system, please observe the following items. ● Do not allow a passenger in the rear seat to push or pull on the seatba ...