Tire dressing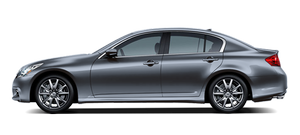 INFINITI does not recommend the use of tire dressings. Tire manufacturers apply a coating to the tires to help reduce discoloration of the rubber. If a tire dressing is applied to the tires, it may react with the coating and form a compound. This compound may come off the tire while driving and stain the vehicle paint.
If you choose to use a tire dressing, take the following precautions: . Use a water-based tire dressing. The coating on the tire dissolves more easily with an oil-based tire dressing.
Х Apply a light coat of tire dressing to help prevent it from entering the tire tread/grooves (where it would be difficult to remove).
Х Wipe off excess tire dressing using a dry towel. Make sure the tire dressing is completely removed from the tire tread/grooves.
Х Allow the tire dressing to dry as recommended by tire dressing manufacturer.
See also:
Compact disc (CD) player operation
Place the ignition in the ACC or ON position and insert the compact disc into the slot with the label side facing up. The compact disc will be guided automatically into the slot and start playing. ...
Handset phonebook
Many phones will support an automatic download of the cellular phoneТs phonebook. Since this method allows for up to 1000 numbers to be stored and entries are automatically assigned voice tags by the ...
Confirming memory storage
● Place the ignition switch in the ON position and push the SET switch. If the main memory has not been stored, the indicator light will come on for approximately 0.5 seconds. When the memory ...