Outside the vehicle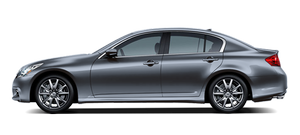 The maintenance items listed here should be performed from time to time, unless otherwise specified.
Doors and engine hood: Check that all doors and the engine hood, operate properly. Also ensure that all latches lock securely. Lubricate hinges, latches, latch pins, rollers and links if necessary. Make sure that the secondary latch keeps the hood from opening when the primary latch is released.
When driving in areas using road salt or other corrosive materials, check lubrication frequently.
Lights*: Clean the headlights on a regular basis. Make sure that the headlights, stop lights, tail lights, turn signal lights, and other lights are all operating properly and installed securely. Also check headlight aim.
Road wheel nuts (lug nuts)*: When checking the tires, make sure no wheel nuts are missing, and check for any loose wheel nuts. Tighten if necessary.
Tire rotation*: Tires should be rotated every 7,500 miles (12,000 km). If your vehicle is equipped with different sized tires in the front and rear, tires cannot be rotated.
Tires*: Check the pressure with a gauge often and always prior to long distance trips. If necessary, adjust the pressure in all tires, including the spare, to the pressure specified. Check carefully for damage, cuts or excessive wear.
Tire Pressure Monitoring System (TPMS) transmitter components: Replace the TPMS transmitter grommet seal, valve core and cap when the tires are replaced due to wear or age.
Tire, wheel alignment and balance: If the vehicle should pull to either side while driving on a straight and level road, or if you detect uneven or abnormal tire wear, there may be a need for wheel alignment.
If the steering wheel or seat vibrates at normal highway speeds, wheel balancing may be needed.
For additional information regarding tires, refer to "Important Tire Safety Information" (US) or "Tire Safety Information" (Canada) in the INFINITI Warranty Information Booklet.
Windshield: Clean the windshield on a regular basis. Check the windshield at least every six months for cracks or other damage. Have a damaged windshield repaired by a qualified repair facility.
Windshield wiper blades*: Check for cracks or wear if they do not wipe properly.
See also:
EX35 in the Market
In a segment dominated by the RX, the EX is still a bit player in terms of sales, on par with the likes of the RDX, XC60 and once-venerable X3. It might be easy to cast off the Infiniti as an also ...
Front seats
Front power seat adjustment Operating tips: • The power seat motor has an auto-reset overload protection circuit. If the motor stops during operation, wait 30 seconds, then reactivate the switch. • ...
Push-button ignition switch positions
LOCK (Normal parking position) The ignition switch can only be locked in this position. The ignition switch will be unlocked when it is pushed to the ACC position while carrying the Intellige ...