Maintenance precautions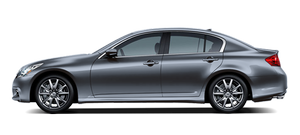 When performing any inspection or maintenance work on your vehicle, always take care to prevent serious accidental injury to yourself or damage to the vehicle. The following are general precautions which should be closely observed.
WARNING
• Park the vehicle on a level surface, apply the parking brake securely and block the wheels to prevent the vehicle from moving. For manual transmission models, move the shift lever to N (Neutral).
For automatic transmission models, move the selector lever to P (Park).
• Be sure the ignition switch is in the OFF or LOCK position when performing any parts replacement or repairs.
• Never connect or disconnect the battery or any transistorized component while the ignition switch is in the ON position.
• Never leave the engine or automatic transmission related component harnesses disconnected while the ignition switch is in the ON position.
• If you must work with the engine running, keep your hands, clothing, hair and tools away from moving fans, belts and any other moving parts.
• It is advisable to secure or remove any loose clothing and remove any jewelry, such as rings, watches, etc. before working on your vehicle.
• Always wear eye protection whenever you work on your vehicle.
• If you must run the engine in an enclosed space such as a garage, be sure there is proper ventilation for exhaust gases to escape.
• Never get under the vehicle while it is supported only by a jack. If it is necessary to work under the vehicle, support it with safety stands.
• Keep smoking materials, flame and sparks away from fuel tank and the battery.
• Your vehicle is equipped with an automatic engine cooling fan. It may come on at any time without warning, even if the ignition key is in the OFF position and the engine is not running. To avoid injury, always disconnect the negative battery cable before working near the fan.
• The fuel filter or fuel lines should be serviced by an INFINITI retailer because the fuel lines are under high pressure even when the engine is off.
CAUTION
• Do not work under the hood while the engine is hot. Turn the engine off and wait until it cools down.
• Avoid direct contact with used engine oil and coolant. Improperly disposed engine oil, coolant, and/or other vehicle fluids can damage the environment. Always conform to local regulations for disposal of vehicle fluid.
This "8. Maintenance and do-it-yourself" section gives instructions regarding only those items which are relatively easy for an owner to perform.
A genuine INFINITI Service Manual is also available. (See "Owner's Manual/Service Manual order information".) You should be aware that incomplete or improper servicing may result in operating difficulties or excessive emissions, and could affect your warranty coverage. If in doubt about any servicing, we recommend that it be done by an INFINITI retailer.
See also:
Intelligent Brake Assist (IBA) OFF switch (if so equipped)
The vehicle should be driven with the Intelligent Brake Assist (IBA) system on for most driving conditions. The Intelligent Brake Assist (IBA) system will sound a warning chime to alert the ...
Horn
To sound the horn, push the center pad area of the steering wheel. WARNING Do not disassemble the horn. Doing so could affect proper operation of the supplemental front air bag system. Tam ...
FM/AM/SAT radio with compact disc (CD) player (if so equipped)
1. VOL/ON·OFF control knob 2. SEEK/CAT/TRACK button (back) 3. SEEK/CAT/TRACK button (forward) 4. FM·AM button 5. XM button* 6. DISC·AUX button 7. RDM/RPT button 8. SCAN butt ...