Door locks/unlocks precaution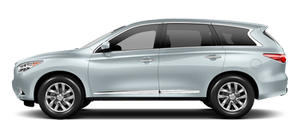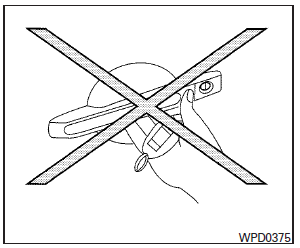 ● Do not push the door handle request switch with the Intelligent Key held in your hand as illustrated. The close distance to the door handle will cause the Intelligent Key system to have difficulty recognizing that the Intelligent Key is outside the vehicle.
● After locking with the door handle request switch, verify the doors are securely locked by testing them.
● To prevent the Intelligent Key from being left inside the vehicle, make sure you carry the Intelligent Key with you and then lock the doors.
● Do not pull the door handle before pushing the door handle request switch. The door will be unlocked but will not open. Release the door handle once and pull it again to open the door.
See also:
Three-way catalyst
The three-way catalyst is an emission control device installed in the exhaust system. Exhaust gases in the three-way catalyst are burned at high temperatures to help reduce pollutants. WARNI ...
2011 Infiniti EX35 Review
As soon as I took off in the 2011 Infiniti EX35, I immediately felt like I was driving with my grandmother. I mean that in a good way. With her desire to keep me and my passengers safe, she lets m ...
Terms
It is important to familiarize yourself with the following terms before loading your vehicle: ● Curb Weight (actual weight of your vehicle) - vehicle weight including: standard and optional ...