Cleaning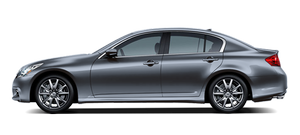 If your windshield is not clear after using the windshield washer or if a wiper blade chatters when running, wax or other material may be on the blade or windshield.
Clean the outside of the windshield with a washer solution or a mild detergent. Your windshield is clean if beads do not form when rinsing with clear water.
Clean each blade by wiping it with a cloth soaked in a washer solution or a mild detergent. Then rinse the blade with clear water. If your windshield is still not clear after cleaning the blades and using the wiper, replace the blades.
Worn windshield wiper blades can damage the windshield and impair driver vision.
See also:
Bluetooth® Hands-Free Phone System (models without navigation system) (if so equipped)
WARNING • Use a phone after stopping your vehicle in a safe location. If you have to use a phone while driving, exercise extreme caution at all times so full attention may be given to vehicle operati ...
Indicator lights
Automatic Transmission (AT) position indicator light (if so equipped) When the ignition switch is pushed to the "ON" position, the indicator shows the automatic selector position. In the manual sh ...
Warning systems switch (if so equipped)
The warning systems switch is used to turn on and off the warning systems (Forward Collision Warning (FCW), Lane Departure Warning (LDW) and Blind SpotWarning (BSW) systems) that are activated using ...