Cleaning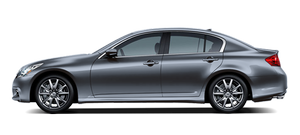 If your windshield is not clear after using the windshield washer or if a wiper blade chatters when running, wax or other material may be on the blade or windshield.
Clean the outside of the windshield with a washer solution or a mild detergent. Your windshield is clean if beads do not form when rinsing with clear water.
Clean each blade by wiping it with a cloth soaked in a washer solution or a mild detergent. Then rinse the blade with clear water. If your windshield is still not clear after cleaning the blades and using the wiper, replace the blades.
Worn windshield wiper blades can damage the windshield and impair driver vision.
See also:
Precautions on IBA system
WARNING ● The IBA system is not a collision avoidance system. It is the driver's responsibility to stay alert, drive safely and be in control of the vehicle at all times. ● As there ...
Battery
If the battery is not fully charged during extremely cold weather conditions, the battery fluid may freeze and damage the battery. To maintain maximum efficiency, the battery should be checked regular ...
Music Box® settings
To set the Music box® hard drive/flash memory to your preferred settings, select the "Menu" key during playback, and the "Music Box Settings" key with the INFINITI controller, and then push the ENTE ...