Summer tires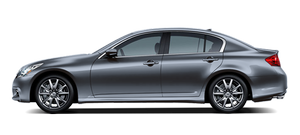 INFINITI specifies summer tires on some models to provide superior performance on dry roads. Summer tire performance is substantially reduced in snow and ice.
Summer tires do not have the tire traction rating M&S on the tire sidewall.
If you plan to operate your vehicle in snowy or icy conditions, INFINITI recommends the use of SNOW tires or ALL SEASON tires on all four wheels.
See also:
How Does It Stack Up?
Draw comparisons to the M or AMG bunch, and this Infiniti does not. It is a tad coarse compared with even a BMW 335i coupe or Audi S5. The VQ-series engine isn't as smooth as a Bimmer's, and the I ...
Flat towing
Towing your vehicle with all four wheels on the ground is sometimes called flat towing. This method is sometimes used when towing a vehicle behind a recreational vehicle, such as a motor home. CAUTI ...
Exterior
The first time I drove the FX was nearly five years ago. Back then the "SUV with a heart of a sports car" was edgy-looking and different from anything else on the road. The design hasn't ...