Appearance Updates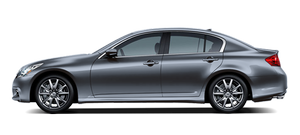 Following a face-lift for last year's sedan, the coupe and convertible get some rhinoplasty themselves for 2011. See the photos at right to compare, or click here for specs and features. Stretching more than 9 inches past the BMW 3 Series, the second-generation G sedan is one of the largest in its segment Ч which makes its narrow, 35.4-foot turning circle all the more impressive. The styling at large Ч vintage Infiniti, with curves aplenty Ч looks distinctly Asian, for better or worse. Overall, the look is wearing OK.
Xenon headlights and 17-inch wheels are standard. Both the Sport and Limited packages include 18-inch wheels, a rear spoiler and some pretty silly-looking ground effects. The base car looks nowhere near as overwrought.
Introduced two model years back, the G37 convertible has a folding metal hardtop that takes a longish 30 seconds to operate. Check out our review of the 2010 model here.
See also:
Windshield wiper and washer switch
WARNING In freezing temperatures the washer solution may freeze on the windshield and obscure your vision which may lead to an accident. Warm windshield with the defroster before you wash the windshi ...
Styling & Quality
I won't waste much virtual ink describing the M's styling qualities; they're better shown in the thumbnails at right. Models with the Sport package get 19-inch alloy wheels, while others have 18-i ...
BEHIND THE WHEEL
While some may enjoy the perception of safety they feel when driving a large SUV that can plow over anything and everything it may encounter, I found the QX56 to have some disconnection from the roa ...