Control panel buttons Ч color screen without Navigation System (if so equipped)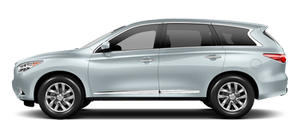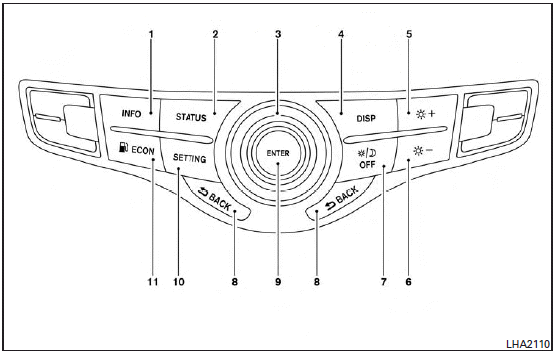 WARNING
● Positioning of the heating or air conditioning controls and display controls should not be done while driving in order that full attention may be given to the driving operation.
● Do not disassemble or modify this system.
If you do, it may result in accidents, fire, or electrical shock.
● Do not use this system if you notice any abnormality, such as a frozen screen or lack of sound. Continued use of the system may result in accident, fire or electric shock.
● In case you notice any foreign object in the system hardware, spill liquid on it, or notice smoke or smell coming from it, stop using the system immediately and contact your nearest INFINITI retailer.
Ignoring such conditions may lead to accidents, fire or electrical shock.
1. INFO button (P. 4-6)
2. STATUS button (P. 4-6)
3. INFINITI controller (P. 4-5)
4. DISP button
5. + (brightness control) button
6. Ц (brightness control) button
7.

OFF brightness control button (P. 4-13)
8.

BACK (previous) button (P. 4-5)
9. ENTER button (P. 4-5)
10. SETTING button (P. 4-9)
11.

ECON (fuel economy) button (P. 4-7)
CAUTION
● The glass display screen may break if it is hit with a hard or sharp object. If the glass screen breaks, do not touch it.
Doing so could result in an injury.
● To clean the display, never use a rough cloth, alcohol, benzine, thinner or any kind of solvent or paper towel with a chemical cleaning agent. They will scratch or deteriorate the panel.
● Do not splash any liquid such as water or car fragrance on the display. Contact with liquid will cause the system to malfunction.
When you use this system, make sure the engine is running.
If you use the system with the engine not running (ignition ON or ACC) for a long time, it will discharge the battery, and the engine will not start.
Reference symbols:
ENTER button Ч This is a button on the control panel.
УExampleФ Ч Words marked in quotes refer to a key shown on the display. These keys can only be selected using the INFINITI controller.
See also:
Break-in schedule
CAUTION During the first 1,200 miles (2,000 km), follow these recommendations to obtain maximum engine performance and ensure the future reliability and economy of your new vehicle. Fail ...
Precautions on distance control assist system
The system is intended to assist the driver to keep a following distance from the vehicle ahead traveling in the same lane and direction. The distance sensor is located behind the front bumper A ...
Universal Serial Bus (USB) memory
This system supports various USB memory sticks, USB hard drives and iPod players. There are some USB devices which may not be supported with this system. ● Make sure that the USB device is conn ...