Oil viscosity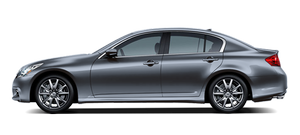 The engine oil viscosity or thickness changes with temperature. Because of this, it is important that the engine oil viscosity be selected based on the temperatures at which the vehicle will be operated before the next oil change. Choosing an oil viscosity other than that recommended could cause serious engine damage.
See also:
Lane Departure Prevention (LDP) system
Precautions on LDP system WARNING ► The LDP system will not steer the vehicle or prevent loss of control. It is the driver's responsibility to stay alert, drive safely, keep the vehicl ...
Tachometer
The tachometer indicates engine speed in revolutions per minute (rpm). Do not rev the engine into the red zone 1 . CAUTION When engine speed approaches the red zone, shift to a higher gear or re ...
Safety
When I first picked up the test car, it beeped at me several times while I was driving on the highway. It took me a minute to figure out that it was beeping every time I drifted into another lane. ...