G37 IPL, G25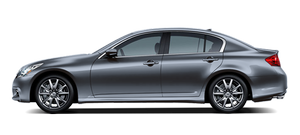 The high-performance G37 IPL coupe and convertible, both available with a manual or automatic, are new this year. Our brief drive left us nonplussed. On the track, there was little to distinguish the IPL coupe from a G37 coupe — despite its revised engine management and improved airflow, which bumps output 18 hp and 6 pounds-feet of torque. Infiniti says the suspension gets unique performance tuning, and the coupe's optional 14.7:1 steering ratio, limited slip differential and 19-inch wheels are standard here. It's hard to fault the similarities: Comparing stick-shift to stick-shift, the IPL runs just $550 over an equivalently optioned G37 coupe. But one could also question if this variant needs to exist at all when competing brands' performance lines go so much further.
At the other end is the G25 sedan, which we have yet to test. Its 2.5-liter V-6 makes 218 hp but just 187 pounds-feet of torque. It comes standard with the automatic, and all-wheel drive is optional.
See also:
Bluetooth settings
To set up the Bluetooth Hands-Free Phone System to your preferred settings, press the SETTING button on the instrument panel and select the "Bluetooth" key on the display. Bluetooth: Turn the ...
Interior Tradeoffs
Once I'd called into question the FX's sportiness, I found it harder to justify its drawbacks. Always a bold design statement, the FX's sleek shape takes a toll on interior space. Thankfully, the ...
Exterior
The JX's sleek design is decidedly Infiniti, echoing many of the same design cues as every other car in the luxury brand's product lineup. It's sleek and modern, with exterior dimensions that make ...