Removing spots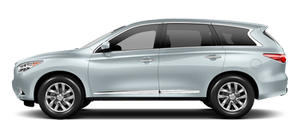 Remove tar and oil spots, industrial dust, insects, and tree sap as quickly as possible from the surface of the paint to avoid lasting damage or staining. Special cleaning products are available at an INFINITI retailer or any automotive accessory store.
See also:
Backing up behind a projecting object
Backing up behind a projecting object The position C is shown further than the position B in the display. However, the position C is actually at the same distance as the position A . The vehicle ...
Voltmeter
When the ignition switch is pushed to the ON position, the volt meter indicates the battery voltage. When the engine is running, it indicates the generator voltage. While cranking the engine ...
Initialize entry/exit function
If the battery cable is disconnected, or if the fuse opens, the entry/exit function will not work though this function was set on before. In such a case, after connecting the battery or replacing with ...