Sedan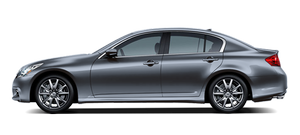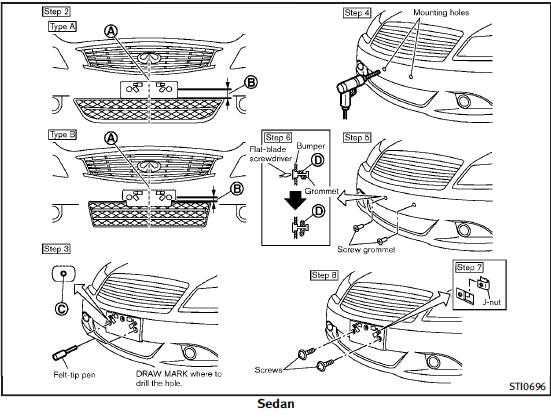 1. Park the vehicle on flat, level ground.
2. Locate the center position A as illustrated. Position the license plate bracket at a distance of approximately 0.35 in (9 mm) B from the bottom of the bumper. Hold the license plate bracket in place.
3. Mark the center of the hole C with a felt-tip pen.
4. Carefully drill two pilot holes using a 0.39 in (10 mm) drill bit at the marked locations. (Be sure that the drill o
5. Insert grommets into the hole on the fascia.
6. Insert a flat-blade screwdriver into the grommet hole to add 908 turn onto the part D .
7. Insert a J-nut into the license plate bracket before placing the license plate bracket on the fascia.
8. Install the license plate bracket with screws.
9. Install the license plate with bolts that are no longer than 0.55 in (14 mm).
See also:
Ride & Handling
Midsize luxury cars run the gamut from comfortable to rigid; the M is closer to rigid, though not so much that it's punishing to drive. Despite my test car having the Sport package — which augment ...
Maintenance precautions
When performing any inspection or maintenance work on your vehicle, always take care to prevent serious accidental injury to yourself or damage to the vehicle. The following are general precautions wh ...
Pulling a stuck vehicle
If your vehicle is stuck in sand, snow, mud, etc., use a tow strap or other device designed specifically for vehicle recovery. Always follow the manufacturer's instructions for the recovery device. ...