Sedan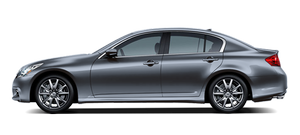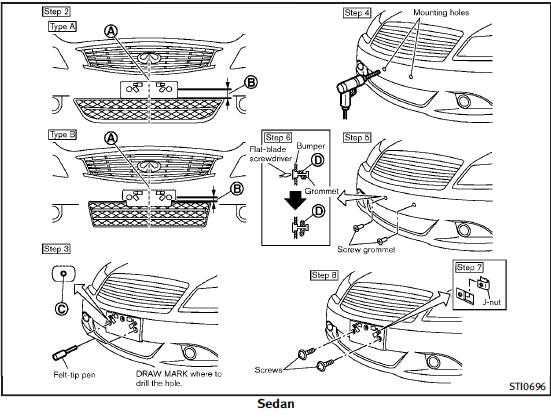 1. Park the vehicle on flat, level ground.
2. Locate the center position A as illustrated. Position the license plate bracket at a distance of approximately 0.35 in (9 mm) B from the bottom of the bumper. Hold the license plate bracket in place.
3. Mark the center of the hole C with a felt-tip pen.
4. Carefully drill two pilot holes using a 0.39 in (10 mm) drill bit at the marked locations. (Be sure that the drill o
5. Insert grommets into the hole on the fascia.
6. Insert a flat-blade screwdriver into the grommet hole to add 908 turn onto the part D .
7. Insert a J-nut into the license plate bracket before placing the license plate bracket on the fascia.
8. Install the license plate bracket with screws.
9. Install the license plate with bolts that are no longer than 0.55 in (14 mm).
See also:
Speaker Adaptation function
The Voice Recognition system has a function to learn the user's voice for better voice recognition performance. The system can memorize the voices of up to three persons. Having the system learn ...
Fuel recommendation
VK56VD engine INFINITI recommends the use of unleaded premium gasoline with an octane rating of at least 91 AKI (Anti-Knock Index) number (Research octane number 96). If unleaded premium gaso ...
Precautions on seat belt usage
If you are wearing your seat belt properly adjusted and you are sitting upright and well back in your seat with both feet on the floor, your chances of being injured or killed in an accident and/or ...