Sedan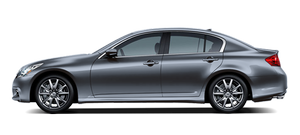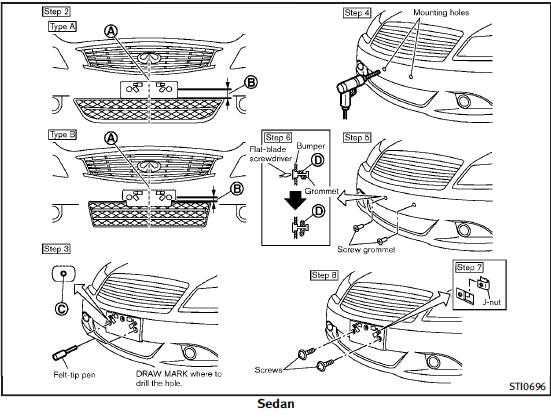 1. Park the vehicle on flat, level ground.
2. Locate the center position A as illustrated. Position the license plate bracket at a distance of approximately 0.35 in (9 mm) B from the bottom of the bumper. Hold the license plate bracket in place.
3. Mark the center of the hole C with a felt-tip pen.
4. Carefully drill two pilot holes using a 0.39 in (10 mm) drill bit at the marked locations. (Be sure that the drill o
5. Insert grommets into the hole on the fascia.
6. Insert a flat-blade screwdriver into the grommet hole to add 908 turn onto the part D .
7. Insert a J-nut into the license plate bracket before placing the license plate bracket on the fascia.
8. Install the license plate bracket with screws.
9. Install the license plate with bolts that are no longer than 0.55 in (14 mm).
See also:
Carlike Driving
Standard in every EX is a 297-horsepower version of Infiniti's 3.5-liter V-6. It's a powerful engine with ample low-end power around town and exhilarating highway passing power, and the gas mileag ...
Air fresheners
Most air fresheners use a solvent that could affect the vehicle interior. If you use an air freshener, take the following precautions: ► Hanging-type air fresheners can cause permanent d ...
Changing engine oil and filter
Vehicle set-up 1. Park the vehicle on a level surface and apply the parking brake. 2. Run the engine until it reaches operating temperature. 3. Turn the engine off and wait more than 15 min ...