Automatic transmission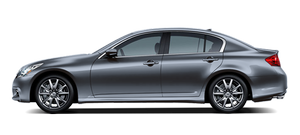 All-Wheel Drive (AWD) models:
Do not tow an AWD vehicle with any of the wheels on the ground.
Two-Wheel Drive (2WD) models:
To tow a vehicle equipped with an automatic transmission, an appropriate vehicle dolly MUST be placed under the towed vehicle's drive wheels. Always follow the dolly manufacturer's recommendations when using their product.
See also:
Precautions on seat belt usage
If you are wearing your seat belt properly adjusted and you are sitting upright and well back in your seat with both feet on the floor, your chances of being injured or killed in an accident and/or ...
Approach warning
If your vehicle comes closer to the vehicle ahead due to rapid deceleration of that vehicle or if another vehicle cuts in, the system warns the driver with the chime and ICC system display. Deceler ...
Compact disc (CD) player (modelswithout Navigation System)
CAUTION ● Do not force a compact disc into the CD insert slot. This could damage the CD and/or CD changer/player. ● Trying to load a CD with the CD door closed could damage the CD ...