Automatic transmission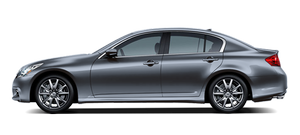 All-Wheel Drive (AWD) models:
Do not tow an AWD vehicle with any of the wheels on the ground.
Two-Wheel Drive (2WD) models:
To tow a vehicle equipped with an automatic transmission, an appropriate vehicle dolly MUST be placed under the towed vehicle's drive wheels. Always follow the dolly manufacturer's recommendations when using their product.
See also:
INFINITI Voice Recognition STANDARD mode
The following section is applicable when the Standard Mode is activated. The Standard Mode enables you to complete the desired operation by simply following the prompts that appear on the display and ...
Front power seat adjustment
Operating tips ● The power seat motor has an auto-reset overload protection circuit. If the motor stops during operation, wait 30 seconds, then reactivate the switch. ● Do not operat ...
Doors
WARNING • Always have the doors locked while driving. Along with the use of seat belts, this provides greater safety in the event of an accident by helping to prevent persons from being thrown from t ...