Larger children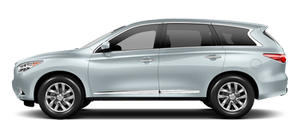 Children should remain in a forward-facing child restraint with a harness until they reach the maximum height or weight limit allowed by the child restraint manufacturer.
Once a child outgrows the height or weight limit of the harness-equipped forward-facing child restraint, INFINITI recommends that the child be placed in a commercially available booster seat to obtain proper seat belt fit. For a seat belt to fit properly, the booster seat should raise the child so that the shoulder belt is properly positioned across the chest and the top, middle portion of the shoulder. The shoulder belt should not cross the neck or face and should not fall off the shoulder.
The lap belt should lie snugly across the lower hips or upper thighs, not the abdomen. A booster seat can only be used in seating positions that have a three-point type seat belt. The booster seat should fit the vehicle seat and have a label certifying that it complies with Federal Motor Vehicle Safety Standards or Canadian Motor Vehicle Safety Standards. Once the child has grown so the shoulder belt is no longer on or near the face and neck and the lap belt can be positioned properly across the lower hips or upper thighs use the seat belt without the booster seat.
WARNING
Never let a child stand or kneel on any seat and do not allow a child in the cargo area. The child could be seriously injured or killed in a sudden stop or collision.
See also:
Trunk open request switch
The trunk lid can be opened by pushing the trunk open request switch when the Intelligent Key is within the operating range of the trunk lock/unlock function regardless of the inside lock knob positio ...
All-Wheel Drive (AWD) driving safety precautions
WARNING • Do not drive beyond the performance capability of the tires, even with AWD engaged. Accelerating quickly, sharp steering maneuvers or sudden braking may cause loss of control.• Always use t ...
M in the Market
The M is as competitive as ever, and not just in a practical way. This car is fun — to drive, to look at, to sit in. In a field of climbing prices and checkered quality, it's nice to see an old fa ...