CD/DVD/USB memory care and cleaning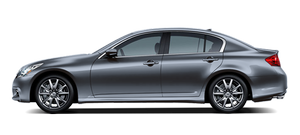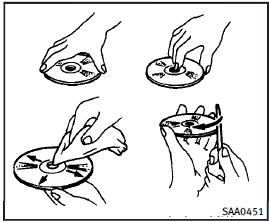 CD/DVD/USB memory care and cleaning
CD/DVD
• Handle a CD/DVD by its edges. Never touch the surface of the disc. Do not bend the disc.
• Always place the discs in the storage case when they are not being used.
• To clean a disc, wipe the surface from the center to the outer edge using a clean, soft cloth. Do not wipe the disc using a circular motion.
Do not use a conventional record cleaner or alcohol intended for industrial use.
• A new disc may be rough on the inner and outer edges. Remove the rough edges by rubbing the inner and outer edges with the side of a pen or pencil as illustrated.
USB memory
• Never touch the terminal portion of the USB memory.
• Do not place heavy objects on the USB memory.
• Do not store the USB memory in highly humid locations.
• Do not expose the USB memory to direct sunlight.
• Do not spill any liquids on the USB memory.
Refer to the USB memory Owner's Manual for the details.
See also:
Music Box® settings
To set the Music box® hard drive/flash memory to your preferred settings, select the "Menu" key during playback, and the "Music Box Settings" key with the INFINITI controller, and then push the ENTE ...
Off-road recovery
If the right side or left side wheels may unintentionally leave the road surface. Maintain control of the vehicle by following the procedure below. Please note that this procedure is only a general g ...
Selecting the correct oil filter
Your new vehicle is equipped with a highquality genuine NISSAN oil filter. When replacing, use the genuine oil filter or its equivalent for the reason described in change intervals. ...