Switch operation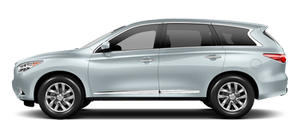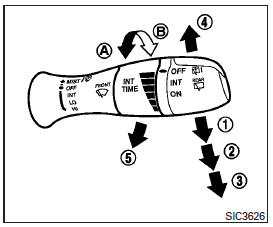 The windshield wiper and washer operates when the ignition switch is in the ON position.
Push the lever down to operate the wiper at the following speed:
1 Intermittent (INT) — intermittent operation can be adjusted by turning the knob toward A (Slower) or B (Faster). Also, the intermittent operation speed varies in accordance with the vehicle speed. (For example, when the vehicle speed is high, the intermittent operation speed will be faster.)
NOTE:
You can turn on or turn off the driving speed dependent intermittent wiper function.
Refer to "Vehicle information display" in this section.
For models with the rain-sensing auto wiper system, see "Rain-sensing auto wiper system" in this section.
2 Low (LO)—continuous low speed operation
3 High (HI) — continuous high speed operation
Push the lever up 4 to have one sweep operation (MIST) of the wiper.
Pull the lever toward you 5 to operate the washer. The wiper will also operate several times.
See also:
Safety
When I first picked up the test car, it beeped at me several times while I was driving on the highway. It took me a minute to figure out that it was beeping every time I drifted into another lane. ...
FM/AM/SAT radio operation
FM/AM band select: Pressing the FM·AM button will change the band as follows: AM → FM1 → FM2 → AM When the FM·AM button is pressed while the ignition switch is in the ACC or ON ...
2013 Infiniti JX35 Review
Don't you ever wish car companies would get with the program and hire a real expert? Not some stuffy pinstriped suit but rather a parent, like yourself, who has the same automotive needs, wants an ...