Rear window wiper and washer switch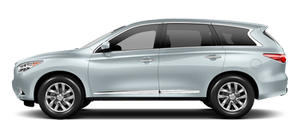 WARNING
In freezing temperatures the washer solution may freeze on the window and obscure your vision. Warm the rear window with the defroster before you wash the rear window.
CAUTION
● Do not operate the washer continuously for more than 30 seconds.
● Do not operate the washer if the reservoir is empty.
● Do not fill the windshield-washer fluid reservoir with washer fluid concentrates at full strength. Some methyl alcohol based washer fluid concentrates may permanently stain the grille if spilled while filling the windshieldwasher fluid reservoir.
● Pre-mix washer fluid concentrates with water to the manufacturer's recommended levels before pouring the fluid into the windshield-washer fluid reservoir.
Do not use the windshield-washer fluid reservoir to mix the washer fluid concentrate and water.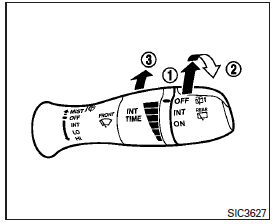 If the rear window wiper operation is interrupted by snow etc., the wiper may stop moving to protect its motor. If this occurs, turn the wiper switch to OFF and remove the snow etc. on and around the wiper arms. After about 1 minute, turn the switch ON again to operate the wiper.
The rear window wiper and washer operate when the ignition switch is in the ON position. Turn the switch clockwise from the OFF position to operate the wiper.
1 Intermittent (INT) — intermittent operation (not adjustable)
2 Low (ON) — continuous low speed operation
Push the switch forward 3 to operate the washer. Then the wiper will also operate several times.
See also:
How to adjust the screen
To adjust the Display ON/OFF, Brightness, Tint, Color, Contrast and Black Level of the RearView Monitor, press the SETTING button with the RearView Monitor on and select the "Display" key. Select one ...
3rd row bench seat adjustment
Outboard seats Reclining To recline the seatback, pull up on the latch located on the outside corner of each seatback. Lean back until the desired angle is obtained. To bring the seatback f ...
Hurry Up? Wait.
The main problem I had with the FX35 was its seven-speed automatic transmission, which was added in 2009. It hesitates so much when you call for more power that I have a hard time calling this SUV ...