2012 Infiniti IPL G Coupe review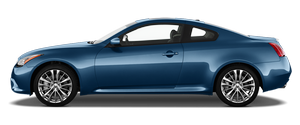 The 2012 IPL G Coupe represents many things to Infiniti. For starters, the Infiniti Performance Line (IPL) is the automaker's first dabble into the kind of performance premium sub-branding that makes German luxury cars bearing an "//M" or "AMG" badge so alluring. If the automaker deems the IPL G a success, then perhaps we'll see the sub-brand expand. Could an IPL M Sedan be on the horizon? Let's first figure out if the IPL G Coupe in the CNET garage is worth the extra dough.
Stepping up to the IPL G Coupe really only improves the G37 Sport in two measurable ways: it goes faster and it handles more sharply. The other changes, including a more raucous exhaust system and bright red leather sport seats, are more subjective improvements, but welcome additions nonetheless.
See also:
Dot matrix liquid crystal display
The dot matrix liquid crystal display appears in the vehicle information display 1 located between the speedometer and odometer, and shows the indicators for the driving systems, Intelligent ...
Read first — then drive safely
Before driving your vehicle, read your Owner's Manual carefully. This will ensure familiarity with controls and maintenance requirements, assisting you in the safe operation of your vehicle. WARNING ...
Precautions on vehicle-to-vehicle distance control mode
The system is intended to enhance the operation of the vehicle when following a vehicle traveling in the same lane and direction. If the distance sensor A detects a slower moving vehicle a ...