It handles better.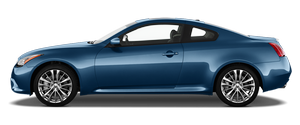 Tucked into the IPL G Coupe's wheel wells are large 19-inch aluminum alloy wheels shod in grippy 225-width tires up front and 245-width tires out back. Twenty-percent stiffer springs suspend the vehicle over these upsized rollers. Stiffer springs usually beget a stiffer ride, but thanks to tweaks that have been made to the IPL G Coupe's dampers, the sports coupe doesn't feel dramatically more bone-jarring over low-speed bumps and cracks than a standard G37 with the Sport package. You may recall that we Car Tech editors were of split minds as to whether the standard Sport package's ride is too harsh to begin with, but at least in this case the rougher ride matches the IPL's racy character.
While the IPL doesn't feel much different from the standard G37 while moseying around town. I discovered on a windy road that its handling limits feel noticeably higher than more mundane Gs. Moreover, those limits are approached, met, and -- if you're not careful -- exceeded in a much more predictable and controlled manner than the standard G Coupe as well.
Usually when a performance car features upgraded bodywork, it means that the automaker has slapped on a new front bumper, rear diffuser, side skirts, and sometimes a spoiler to make the car in question look more aggressive. This is exactly what Infiniti did with the IPL G Coupe -- spoiler and all. However, in this case the new body work actually serves an aerodynamic purpose, creating a zero-lift condition by helping to control how air moves around the vehicle at high speeds.
See also:
Air fresheners
Most air fresheners use a solvent that could affect the vehicle interior. If you use an air freshener, take the following precautions: ● Hanging-type air fresheners can cause permanent discol ...
Safety
In crash tests by the Insurance Institute for Highway Safety, the Infiniti EX35 gets the highest mark, Good, in all tests, and is thus listed as a Top Safety Pick. While the National Highway Traff ...
Bluetooth® Hands-Free Phone System (models without navigation system) (if so equipped)
WARNING • Use a phone after stopping your vehicle in a safe location. If you have to use a phone while driving, exercise extreme caution at all times so full attention may be given to vehicle operati ...